Gait Technology Program
Our therapists work closely with our clients to provide neuromuscular re-education and other neuro-rehab strategies to improve gait, balance, posture and activities of daily living.
---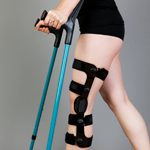 Neurological impairments may interfere with standing, walking, or transfer ability and may simultaneously hinder other functional activities. Patients may have problems with balance and are therefore at increased risk for falling and dizziness. Other issues that may hinder walking include chronic pain syndromes, impairing the metabolic and cardiovascular demands of exercise.
Our Physiotherapists, Kinesiologists, and Occupational Therapists work closely with our clients by providing strengthening, neuromuscular re-education, balance training, and strategies to improve gait and balance.
The primary goals of the gait technology program include:
Increase strength and endurance
Improve balance
Increase standing and walking tolerance
Ensure appropriate gait
Improve independent mobility
A doctor's or therapist's (PT or OT) referral is preferred and we see adult patients over 18 years of age at any point of the continuum of care.
For more information please call:
ATC Baycrest at 416-784-3600 or ATC Sunnybrook at 416-480-5756