Upper Extremity Program
The Upper Extremity (UE) program utilizes multi-component rehabilitation techniques designed to improve motor and sensory deficits of the arm and hand after neurological injury.
---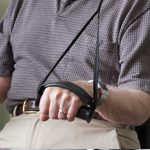 The ATC Upper Extremity Program is a rehabilitation program utilizing a multi-component protocol designed to reduce motor deficit of the upper extremities (UEs) in patients after neurological injury. This program utilizes components of other rehabilitation protocols such as Functional Electrical Stimulation (FES) and Constraint Induced Movement Therapy (CIMT).
The primary goals of the Upper Extremity Program are:
Improve quality and efficiency of movements in the shoulder, arm, and hand
Improve functional use of the shoulder, arm and hand
Improve alignment, strength and flexibility in the shoulder, arm and the hand
A therapist's (OT or PT) referral is preferred and patients are accepted on a case by case basis at any point of the continuum of care.
For more information please call:

ATC Baycrest at 416-784-3600 or ATC Sunnybrook at 416-480-5756