Learn more about what we do and where we're heading next!
The Assistive Technology Clinic began in 1994 as a service dedicated to improving the quality of life for people by intertwining rehabilitation and technology. For over 25 years we have served those who suffer from the consequences of neurological and complex musculoskeletal disorders.
ATC is privately incorporated, with two locations between Sunnybrook Health Sciences Centre and the Baycrest Brain Health Centre. ATC operates independently from Sunnybrook and Baycrest's other medical facilities, but has a close relationship that is able to breach gaps in care. ATC has thus emerged as an industry leader in combining innovative medical and neurological rehabilitation therapy programs with cutting-edge technologies for customized patient care.
We operate with unique and highly specialized inter-professional clinical teams, comprised of physicians, nurses, occupational and physical therapists, speech language pathologists, dietitians, therapy support staff, social services, biomedical engineers and computer technologists, who work collaboratively to improve the quality of live for our patients.
This award-winning team sees over 4,000 patients per year and provide interventions in the areas of specialized medicine and rehabilitation, spasticity management, gait and balance, seating and mobility, augmentative and alternative communication, computer aids, wearable robotics, and environmental controls.
Individuals are referred to our programs from across the province and even across the country from acute care hospitals, rehabilitation facilities, and community service providers and or directly from a family physician or home care allied health professional. Our programs have been designed to allow clients to enter our programs at any point in the continuum of care.
Our goal is to provide the highest standards of patient-centered care by offering a broad spectrum of resources and highly expert multidisciplinary teams to help each person function at the highest level of their ability. Stop by at one of our neurorehabilitation, speech pathology, or movement disorder clinics in Toronto!
The Assistive Technology Clinic (ATC) currently offers virtual care. This means that we may be using phone and/or computer technologies for virtual patient visits rather than appointments in the clinic.
This Virtual Consent Form asks for your consent to use sanctioned software tools to conduct virtual care.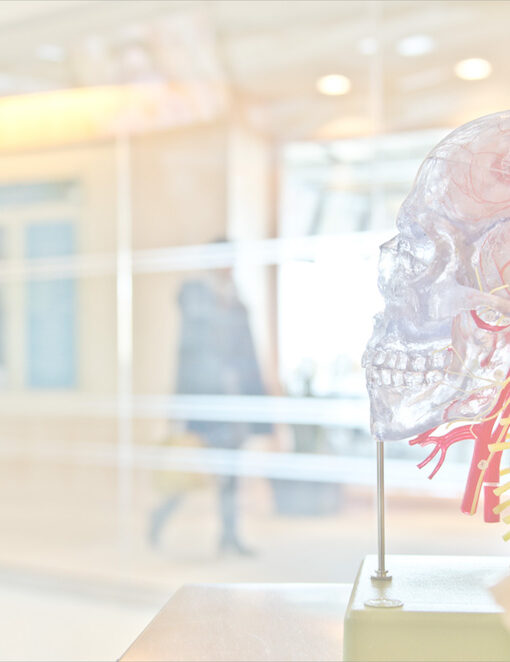 Quality patient care is our Northern Star.
ATC fosters and invests in patient-centered care and innovation. We are committed to continuous improvement, impactful research and cultivating meaningful relationships with community partners.
ATC's entire program is designed to improve the quality of life of those living with disability.
Every course of action we take is guided by our desire to support patients in:
Achieving functional independence

Increasing emotional wellbeing

Regaining environmental control

Directing his or her care

Maintaining vocational & educational opportunities

Participating in leisure activities

Allowing opportunity for social inclusion
We have woven together an extensive and specialized alliance of Physiotherapists, Occupational Therapists, Speech-Language Pathologists, Kinesiologists, Neurologists, Physiatrists, Registered Nurses, Dietitians, Nutritionists, Biomedical Engineers, Communication Disorder Assistants, Psychotherapists and Social Work Counselors to provide a multi-disciplined approach in customizing patient care.
The strength of ATC is our expert inter-professional team.
The team works collaboratively to assess, diagnose, treat and support our patients, and are adept at managing the physical, cognitive and psycho-social issues brought on by any impairment. After assessment in the clinic and in-between appointments, clients are encouraged to contact any of the team members for guidance or advice, if desired, so that the client maintains a direct line to us at any time.
Learn more about our growing team and partner vendors below.
Driving industry innovation.
We pride ourselves on being thought-leaders and industry trailblazers. In our efforts to improve and transform rehabilitation practices, we are constantly discovering new findings to better the way people with disability are cared for and live.
ATC has established collaborative partnerships with organizations such as the University of Toronto and the University of New Brunswick for our research and development of new technologies. Our research studies have been shared at numerous international conferences and published in a number of peer-reviewed journals.
Please click back soon to learn more about our published work and gain digital access to these resources.
How we support our operations.
ATC is privately incorporated and partially funded by the Ontario Ministry of Health for certain programs and holds contracts with multiple public institutions.
We pride ourselves on operating under the principles of universal healthcare and social entrepreneurship, so no one is turned away. 
We are proudly grant-funded to treat clients with neurodegenerative conditions including ALS, MS, Stroke and Parkinson's, and able to accept patients who fall outside grant-specific diagnoses as an independently incorporated clinic. Those who are not eligible for our grant programming are can be treated on a fee-for-service basis.
For those with insurance, ODB, WSIB , NIHB, DVA, or other benefits, ATC will work with your providers and third-party payment agencies to get you the most affordable and cost-effective treatment options. For those with no benefits and an inability to pay, ATC's social service workers can help.
As a result of the extraordinary interventions provided by ATC, and our client-centered philosophy, general awareness of the needs and possibilities for the neurologically disabled has grown. Consequently the demand for our services has increased and we are always on the lookout for new grant and revenue generating opportunities to meet the needs of the people we serve and provide each and every one of them with the right tools and technology to improve and maintain their quality of life.
Technology has the power to change lives. Evika is devoted to bringing life-changing innovations to the people who need them.
Proud recipient of support from the Government of Canada through the Federal Economic Development Agency for Southern Ontario.
Fier bénéficiaire de l'appui du gouvernement du Canada à travers l'Agence fédérale de développement économique pour le Sud de l'Ontario.