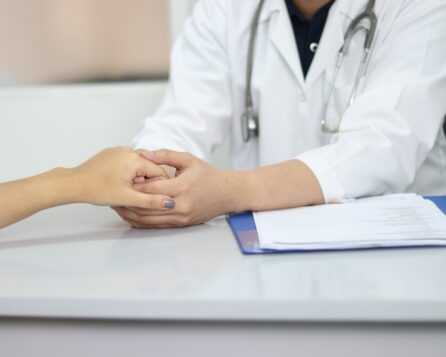 Ask your doctor to fill in this referral and we'd be happy to fit you with your new assistive device.
The referral is a document that medical professionals use to refer patients from one clinic or physician to another. In Ontario, the referral is necessary for full coverage from OHIP, ADP, and other government and non-profit organizations.
Let us walk you through it.
Download or Share the referral document
You can download the document below, or click the share button if you know your physician's email address.
Ask your physician to fill in the referral document
Visit your physician, or send her/him an email asking to refer you to the Assistive Devices Clinic. To make it easy for you, we've written some sample text that you can copy and paste into your email. Just fill in the blanks.
Dear [care provider],
I am writing to request a referral to the Assistive Devices Clinic (ATC) in Toronto. This is to follow up on [medical issue].
Please find the referral form attached. Could you fill this in and send the document to ATC?
My contact details:
Name:
Address:
Phone:
Thank you,
[name]
Your physician will send the referral document to us at ATC.
Your physician will be used to sending out referrals; they do it daily! The document will have all the information they need to complete the referral for you.
We'll call you up to make an appointment!
Once we receive the referral we'll give you a call to setup an appointment. We'll usually follow up within 48 hours of receiving the referral, and our waiting time for appointments are typically around 2-3 weeks.

Get the Referral Document
Download the document here, or share it directly with your healthcare provider if you know their email address.
Due to the COVID-19 pandemic, ATC has had to limit the number of referrals we can see. Consequently, we can only accommodate our internally referred patients and will not be accepting any community referrals for our Seating and AAC clinics at this time.
Thank you for your understanding.